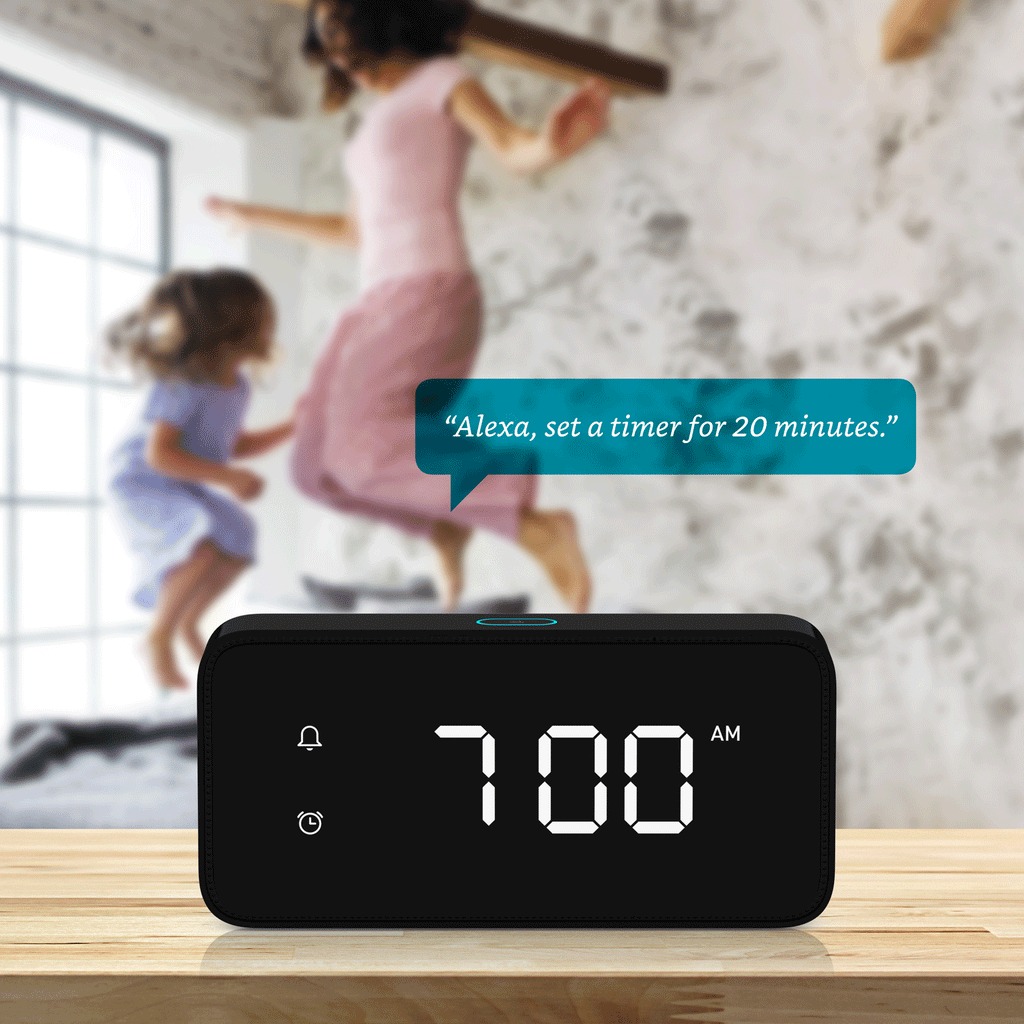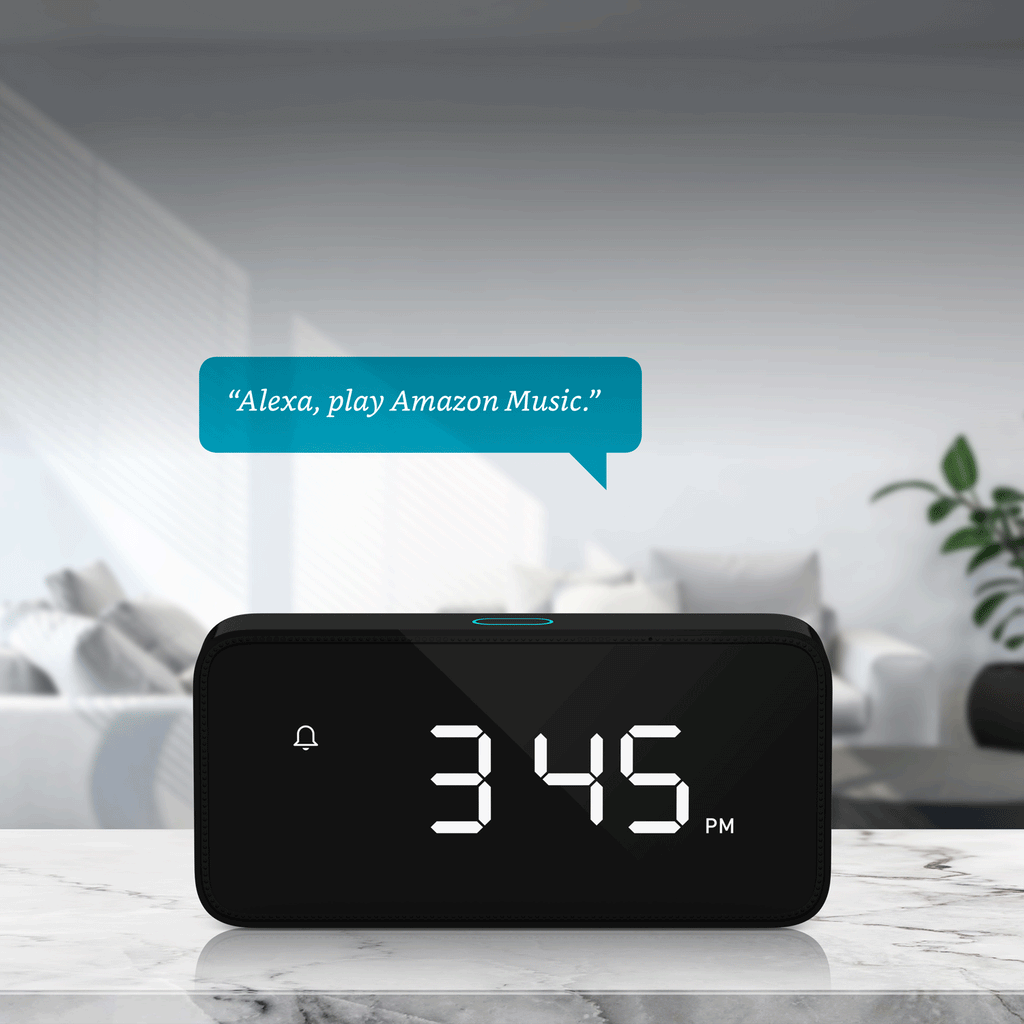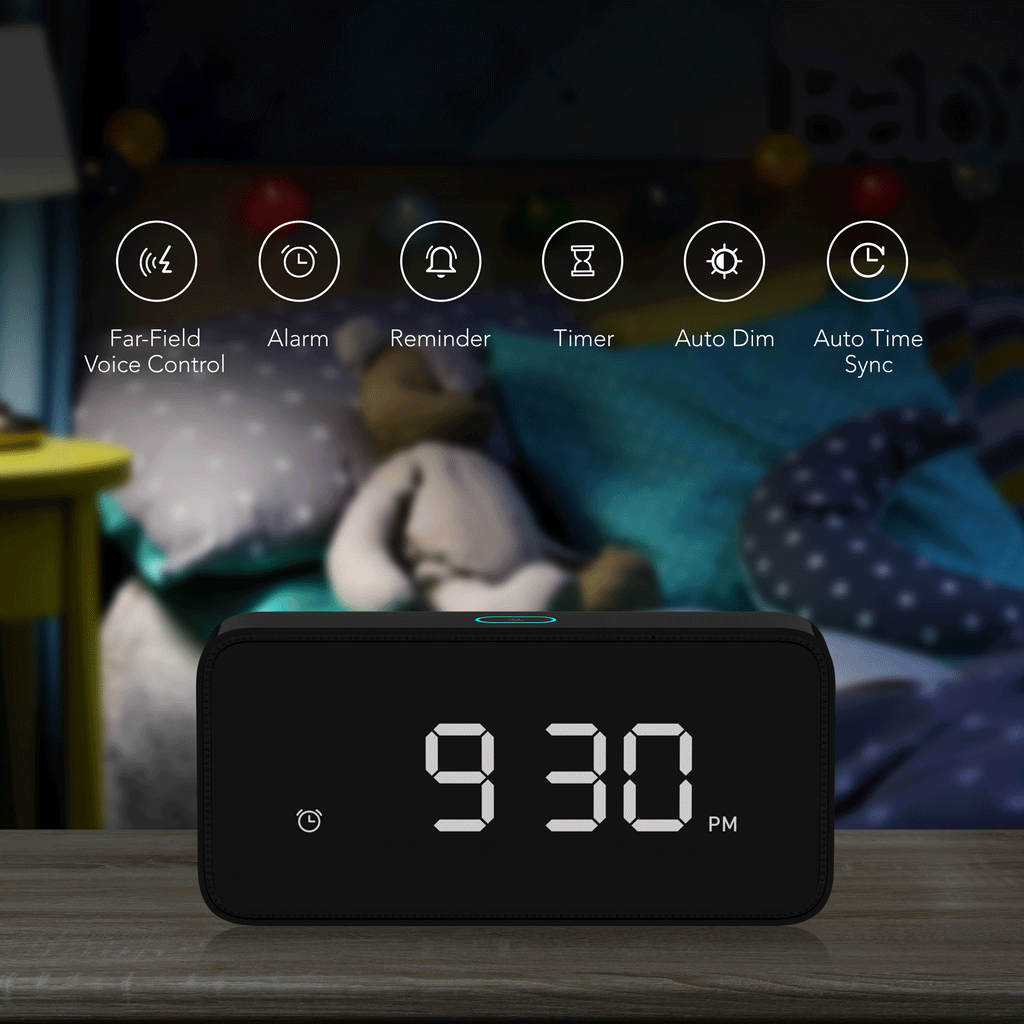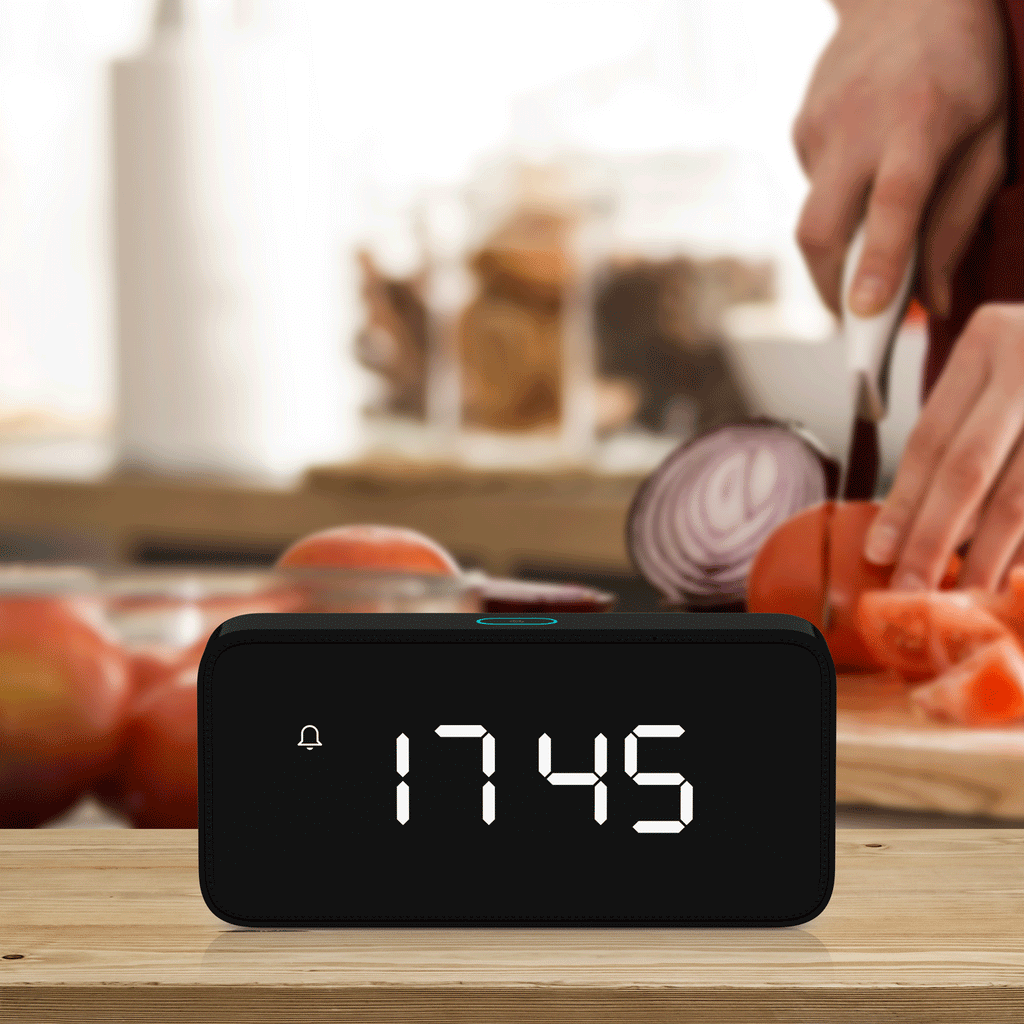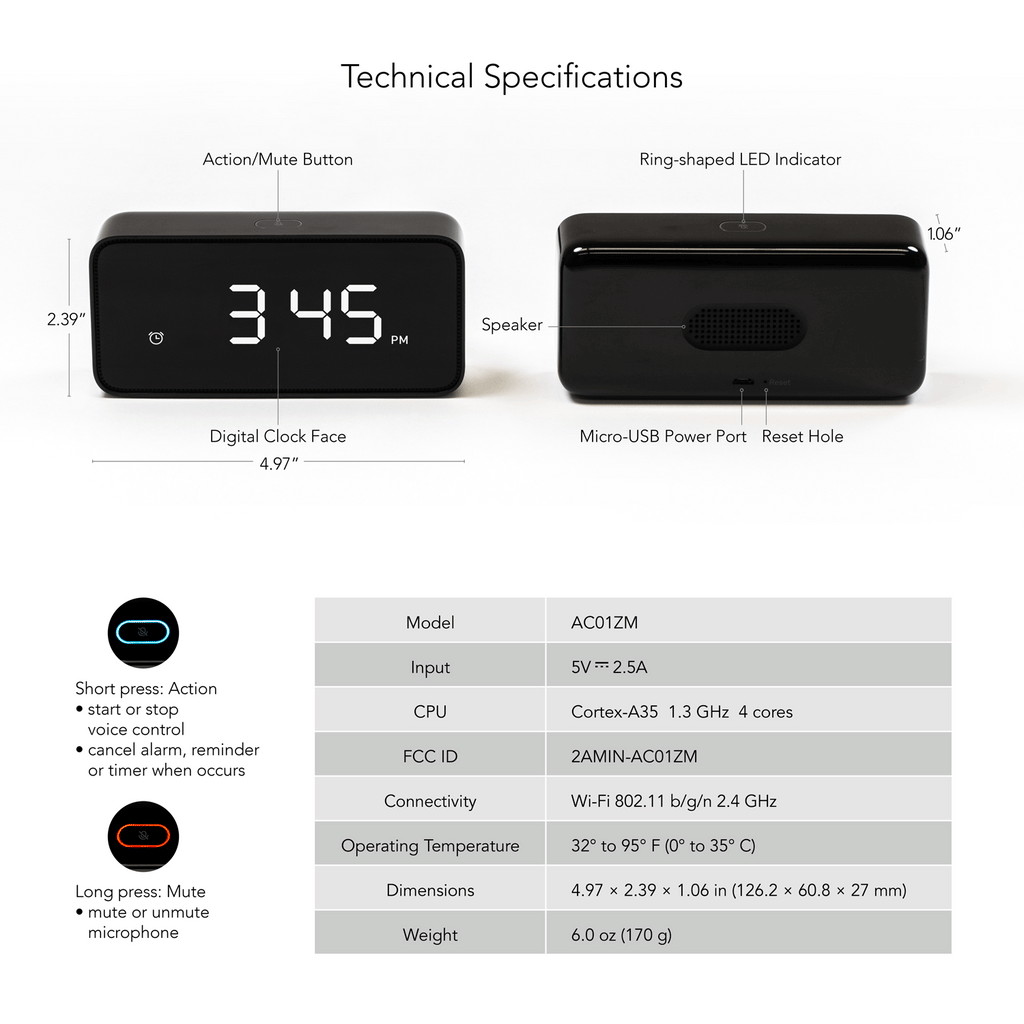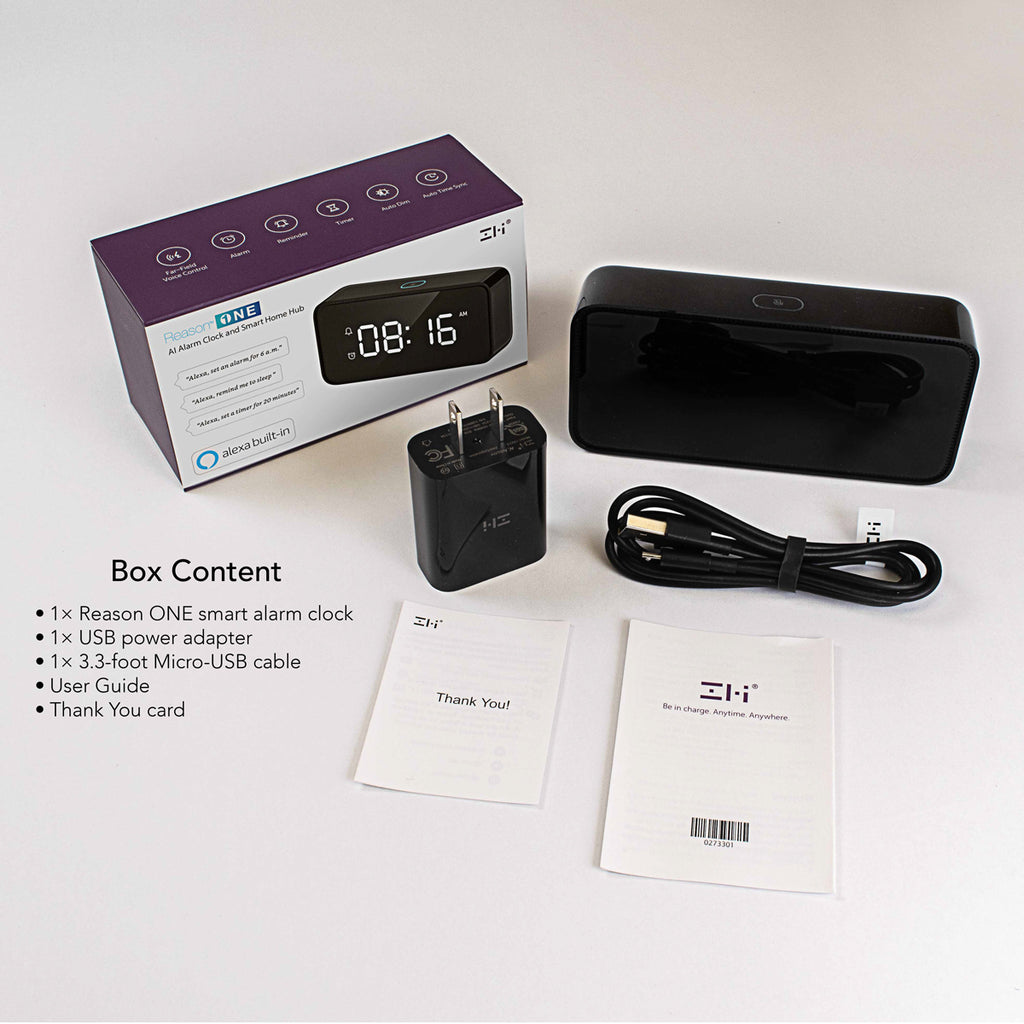 $19.99
$0.00
Reason® ONE Smart Alarm Clock with Alexa
Get the Reason Home App
Manage all your Reason Smart Home products in one place. Download the Reason Home app from your phone or tablet's app store. 
NOTE: This device supports Wi-Fi 802.11 b/g/n 2.4 GHz only. Please use a smartphone or tablet running iOS 9.0 (or above) or Android 4.4 (or above).
Features
Large, easy-to-read digital time display
Alexa voice assistant built-in: weather, calendar, translations, and more
Clock face brightness adapts automatically to the ambient light of your environment
Controls smart home devices that work with Alexa
Use supported music services to play radio stations, podcasts, audiobooks, and more
Supported Music Services*
Amazon Music
Audible
Deezer
Gimme Radio
iHeartRadio
Pandora
SiriusXM
TuneIn
* Users will be responsible for their subscription and resulting fees to Music Service Providers if applicable.
Tech Specs
Model: AC01ZM
FCC ID: 2AMIN-AC01ZM
Language Supported: English (US)
Input Port: Micro-USB
Input: 5V𝌂1.5A
Power Adapter Input: 

100-240V ~ 50/60Hz 0.5A

 
Connectivity: Wi-Fi 802.11 b/g/n 2.4 GHz
Operating Temperature: 32° to 95° F (0° to 35° C)
Dimensions: 4.97 × 2.39 × 1.06 in (126.2 × 60.8 × 27 mm)
Weight: 6.0 oz (170 g)
In the Box
1

×

Reason ONE AI alarm clock
1

×

 USB

 power adapter

1× 3.3-foot Micro-USB cable

User Guide
NOTE: This device does not have a built-in battery.
Ideas for Smart Home
FAQ
Can I power my Reason ONE alarm clock using a portable power bank?
A. Yes. Using our
PowerPack Ambi 10K
power bank (with cell capacity 37Wh), we were able to power the clock for 25 hours in standby mode (with clock display on; without music play). Standby current approx. 250mA at 5V. Moreover, the PowerPack Ambi sustained continuous music playing (via Pandora streaming) of the Reason ONE for 22 hours.
Can I use the Xiaomi Xiao AI alarm clock with the Reason Home app?
No. The Reason Home app will only work with the Reason ONE alarm clock. The app does not support the Xiaomi clock.
Can I bring my Reason ONE alarm clock along on my camping trip and use the Alexa voice assistant if I power it using a portable power bank and keep it connected to the Web using my phone's Wi-Fi hotspot?
A.
How can I set up the Reason ONE as a clock radio waking me up with my favorite radio station playing?
A.
Do you have a beta tester program?
For more support, please visit the Reason Clock Help Center.
Photo Gallery
Communities
Subreddit: r/ReasonHome
Mi Community: c.mi.com